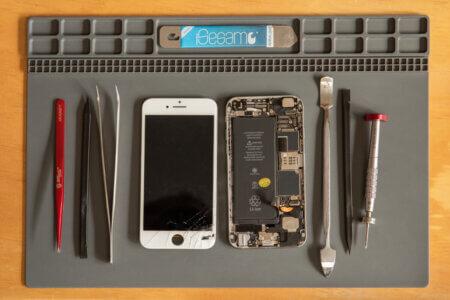 Speedy Repair
Most repairs completed in under 2 hours. We know you need your phone back fast and that's why we get it repaired quick so you can get back to gaming … working … chatting … posting and more
Quality Parts
We know some places use inferior parts in their repairs. We're proud to source high-quality parts from our network of reliable vendors. So much that we back all our repairs with a 6-Month defect warranty.
Affordable Pricing
Repairing your phone shouldn't cost an arm and a leg! Our partnership with vendors and our commitment to our supply chain allows us to bring you affordable and economical repairs.
Plenty Of Parking!
No Long Queues!
No Busy Mall!
Bright Orange Building!
Looking For An Out Of Town Solution?
We provide a comprehensive mail-in service. Simply send your damaged device by post or courier, and we'll return it fully repaired. Typically, we send your device back to you the following day.
Phone Repair & More
Looking for a reliable place to repair your mobile phones and tablets? Phone Repair NZ is an independent repair shop based in Christchurch, New Zealand. We offer a range of services including screen and battery replacement, water damage repair, and data recovery for a variety of brands such as iPhone, iPad, Samsung, Huawei, and Oppo. In addition, we also have a collection of mobile phone cases, screen protectors, charger cables, pre-owned phones, and other accessories available in-store. Trust us to get your device back up and running in no time!
Cases, protectors & accessories available
A range of pre-owned mobile phones
Friendly team always ready to help